So there was a cartoon in the Telegraph before mayoral election re the Naz Shah/Ken Livingstone affair that showed the "roots" of Labour's red rose spread out below the ground, forming the word 'antisemitism'.
Now don't get me wrong, both Shah and Livingstone have said some dumb shit and yes certain aspects of the left clearly have a problem with Jews (socialism of fools and all that). But now seems like a pretty good moment to remind people that if any of the main political parties in the UK have a historical problem with Jews it's not Labour, it's the Tories.
Here's a few examples of how for the past 100 years, the Eton-educated have offered a home or extended their help to anti-semites, fascists and the extreme right.
Remember these: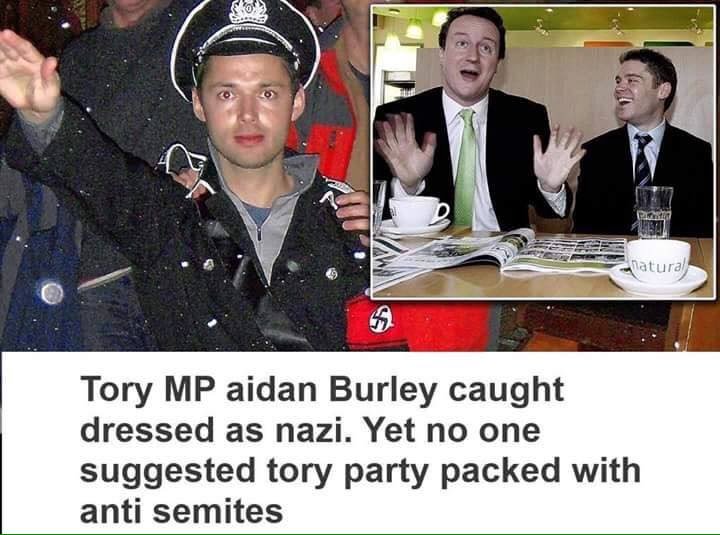 It didn't start with these. It has been going on for centuries. For the sake of space and time i have limited to the 20th century to the present day.
1) British Brothers League. 1902. Antisemitic, anti-immigrant group formed by Captain William Stanley Shaw and Conservative MPs William Evans-Gordon and Samuel Forde-Ridley.
2) British Fascisti. First group in Britain to self-define as fascist. Stewarded and canvassed for the Conservative Party. Included Tory members like future MP Patrick Hannon.
3) Britain Union of Fascists. Major anti-semitic fascist group who regularly goose stepped through the East End chalking "Perish Judah" onto synagogues and intimidating Jews. Total fucking pricks. Donors included Conservative peers and ministers such as Wyndham Portal, Henry Drummond Wolff and W. E. Allen.
4) January Club. A front organisation for the British Union of Fascists. Included many Conservative members.
5) The Liberators. Private "Nazi army' set up by Conservative MP for Tottenham North, Edward Doran in 1933.
6) The Link. Pro-Nazi organisation set up in 1937 with supporters including Conservative MP Sir Lambert Ward.
7) The Right Club. Far-right group set up by Conservative MP, Captain Archibald Maule Ramsay in 1939 to rid the "Conservative Party of Jewish control".
8) The Monday Club. Conservative group founded in 1961 with strong links to the fascist National Front, more recently seen seig heiling on the streets of Dover.
9) Fast forward to 2009. David Cameron breaks with a centre-right political group in the European Parliament to form a new "anti-federalist" bloc called the European Conservatives and Reformists. The group includes the Latvian For Fatherland and Freedom party whose members regularly participate in an annual march to remember Latvian-SS Legion vets in Riga. In 2014 the group also votes to admit the far-right Danish People's Party and the far-right True Finns, two parties riddled with islamophobes and anti-semites.
10) 2011. Bunch of Oxford toffs in the University Conservative Association sing Nazi songs at 10 grand "port and policy" night.
11) 2013. Jacob Rees-Mogg eats dinner with the extreme right Traditional Britain Group.
12) 2014. Tory MP Adian Burley enjoys a Nazi stag party
13) 2014. MP Patrick Mercer resigns after saying a female soldier looked like a 'bloody Jew'.
14) 2015. Tory Council candidate Gulzabeen Afsal says she won't support "the Jew" Ed Miliband.
15) 2015. Conservative party run an entire campaign using Crosby-style coded racism to describe Jewish Labour party leader Ed Miliband as a "back-stabbing" "North London" klutz that can't eat a bacon sandwich.
Let's get some perspective folks and remember the corporate media is not there for you it's there for well you know who. If you don't know by now then pay more attention.
Anon