My aunt, Kate Geraghty, who has died aged 78, was an accomplished actor on stage and screen. Her stage name, Kate Lansbury, came from her great-grandfather George Lansbury, the Labour leader of the 1930s, whose socialist passions and ferocious energy she inherited as a lifelong political and environmental activist.
Born in Luton, she was the daughter of Pete Whiskin, a gas engineer, magistrate and property developer and his wife, Esme (nee Lansbury), an office manager, pianist and stalwart of the Women's Institute. Kate was brought up in the Bedfordshire village of Harlington and recalled looking for orchids on the chalk downs with her brother, Nigel, and sister, Alison. When she left Bedford high school, she auditioned successfully for the Central School of Speech and Drama in London.
On leaving in 1961, she got her first jobs at the Royal Court theatre, London. In 1965 she joined the opening season of the Yvonne Arnaud theatre in Guildford, Surrey, and played Katya in A Month in the Country. Then she joined the National Theatre Company at the Old Vic led by Laurence Olivier.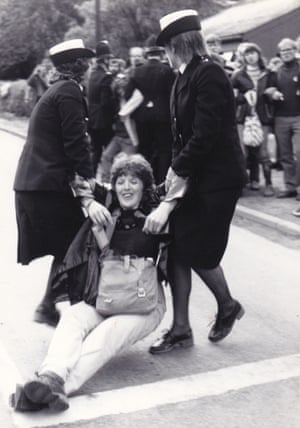 One night, after the last tube broke down at Oxford Circus, she shared a cab with Bill Geraghty, a restaurant manager. They married in 1963; their two sons, Billy and Sean, appeared with Kate on Z Cars while they were still toddlers. She was involved in various TV detective series into the 90s: a PD James, a Morse, two Ruth Rendells, Bergerac, The Chief and Sherlock Holmes. In films, Kate was briefly seen as a magistrate in A Fish Called Wanda (1988) and played Paulette the maid in Ever After (1998), which starred Drew Barrymore and Anjelica Houston.
Unhappy with separations from her children, she trained as a teacher and moved to Dorset. Her marriage having by then ended in divorce, she set up home with her partner, Antony Broad, near Bridport, and worked as a secondary school teacher from 1977 to 1980.
In 1978, the director Ann Jellicoe's first community play opened at Woodroffe school in Lyme Regis and Kate worked with Ann on the Axe Vale community play The Tide. Ann asked Kate to join her on a permanent basis at the Colway Theatre Trust producing Howard Barker's play The Poor Man's Friend at Bridport, which enabled Kate to leave teaching and go back to her former profession. In 1985, she co-founded the Somerset and Dorset Theatre Company and ran it for seven years.
Kate became a speaker for Save the Children, and a supporter of Greenpeace and Friends of the Earth. In 1982 she helped save ancient trees on the Iron Age fort of Lambert's Castle, and co-founded an ecologically minded initiative, the West Dorset Safe Energy campaign. In the early 80s she founded the West Dorset branch of CND. A Labour parish councillor from 1993, she was in all respects a force to be reckoned with.
She is survived by Antony, Billy and Sean, six grandchildren and five great-grandchildren.